August 2008 Theme Day: Metal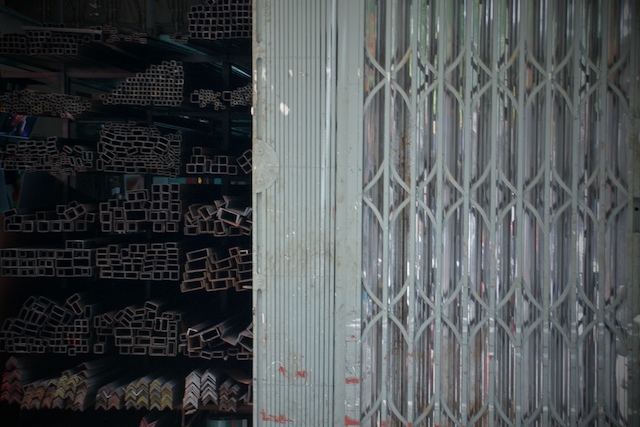 As some of you already know, Hanoi's 'Old Quarter' features many little streets that were once dedicated to one particular activity each; there was for instance 'bamboos street', 'cotton street', etc.
There are supposed to be 36 of them.
Guess what? For this month's theme day, I give you Lò Rèn; a.k.a. 'blacksmiths street'.
(Time has passed and now only a few of those streets have still managed to keep their original focus; I'll keep posting on those this week).
---
Check out the thumbnails for all City Daily Photo 'Metal' theme day participants.
No less than 183 members are participating this month!
Albuquerque (NM), USA by Helen, Aliso Viejo (CA), USA by Rodney, American Fork (UT), USA by Annie, Anderson (SC), USA by Lessie, Ararat, Australia by freefalling, Arradon, France by Alice, Aspen (CO), USA by IamMBB, Athens, Greece by Debbie, Auckland, New Zealand by Baruch, Auckland, New Zealand by Lachezar, Austin (TX), USA by LB, Bandung, Indonesia by Harry Makertia, Bandung, Indonesia by Eki Akhwan, Bandung, Indonesia by Bunyamin, Barrow-in-Furness, UK by Enitharmon, Barton (VT), USA by Andree, Bellefonte (PA), USA by Barb-n-PA, Bicheno, Australia by Greg, Birmingham (AL), USA by VJ, Bogor, Indonesia by Gagah, Boston (MA), USA by Cluelessinboston, Brantford (ON), Canada by Nancy, Bucharest, Romania by Malpraxis, Budapest, Hungary by Zannnie and Zsolt, Budapest, Hungary by agrajag, Budapest, Hungary by Isadora, Buenos Aires, Argentina by Karine, Canterbury, UK by Rose, Chandler (AZ), USA by Melindaduff, Château-Gontier, France by Laurent, Chateaubriant, France by Bergson, Cheltenham, UK by Marley, Chennai, India by Ram N, Chesapeake (VA), USA by ptowngirl, Cincinnati, USA by Erik Laursen, City of the Blue Mountains, Australia by Richard, Corsicana (TX), USA by Lake Lady, East Gwillimbury, Canada by Your EG Tour Guide, Edinburgh, UK by Dido, Edmonton (AL), Canada by , Evry, France by Olivier, Folkestone, UK by Piskie, Forks (WA), USA by Corinne, Fort Lauderdale (FL), USA by Gigi, Gabriola, Canada by Snapper, Geneva (IL), USA by Kelly, Greenville (SC), USA by Denton, Grenoble, France by Bleeding Orange, Gun Barrel City (TX), USA by Lake Lady, Hamilton, New Zealand by Sakiwi, Hampton (VA), USA by ptowngirl, Haninge, Sweden by Steffe, Hanoi, Vietnam by Jérôme, Helsinki, Finland by Kaa, Hobart, Australia by Greg, Hyde, UK by Old Hyde, Hyde, UK by Gerald, Jackson (MS), USA by Halcyon, Jefferson City (MO), USA by Chinamom2005, Jerusalem, Israel by Esther, Kansas City (MO), USA by Cate B, Kuala Lumpur, Malaysia by Edwin, Kyoto, Japan by Tadamine, Lakewood (OH), USA by mouse, Larchmont (NY), USA by Marie-Noyale, Las Vegas (NV), USA by Mo, Leipzig, Germany by weltbeschreiber, Lisbon, Portugal by Sailor Girl, Lisbon, Portugal by Maria João, London, UK by Ham, London, UK by Mo, Lynchburg (VA), USA by June, Mainz, Germany by JB, Manila, Philippines by Heyokity, Mashhad, Iran by Meead, Melbourne, Australia by John, Melbourne, Australia by Mblamo, Menton, France by Jilly, Mesa (AZ), USA by Mesa Daily Photo, Mexico City, Mexico by Carraol, Middletown (MD), USA by Bernie, Milwaukee (WI), USA by karl, Minneapolis (MN), USA by Mitch, Minneapolis (MN), USA by Scott, Minneapolis (MN), USA by Greg, Misawa, Japan by misawa mama, Molfetta, Italy by saretta, Monte Carlo, Monaco by Jilly, Monterrey, Mexico by rafa, Mumbai, India by MumbaiiteAnu, Mumbai, India by Magiceye, Nancy, France by yoshi, Nashville (TN), USA by Chris, Nelson, New Zealand by Meg and Ben, New Delhi, India by Delhi Photo Diary, New Orleans (LA), USA by steve buser, New York City (NY), USA by Ming the Merciless, New York City (NY), USA by • Eliane •, New York City (NY), USA by Kitty, Newport News (VA), USA by ptowngirl, Norfolk (VA), USA by ptowngirl, Norwich, UK by Goddess888, Ocean Township (NJ), USA by Josy, Oklahoma City (OK), USA by ananda.tashie, Orlando (FL), USA by OrlFla, Owasso (OK), USA by Jennifer, Palos Verdes (CA), USA by tash, Paris, France by Eric, Pasadena (CA), USA by Can8ianben, Pasadena (CA), USA by Petrea, Petaling Jaya, Malaysia by Murphy_jay, Petoskey (MI), USA by Christie, Philadelphia (PA), USA by Stephanie Craig, Phoenix (AZ), USA by Cheryl, Phoenix (AZ), USA by Sharon, Pilisvörösvár, Hungary by Elise, Port Angeles (WA), USA by Jelvistar, Port Vila, Vanuatu by Mblamo, Portsmouth (VA), USA by ptowngirl, Prague, Czech Republic by Honza03, Pretoria, South Africa by Sam-Ruth, Quezon City, Philippines by ann pablo, Quincy (MA), USA by slim, Ramsey, Isle of Man by babooshka, Rancho Palos Verdes (CA), USA by Sarah Adams, Riga, Latvia by Riga Photos, Rotterdam, Netherlands by Ineke, Rouen, France by Bbsato, Saigon, Vietnam by Simon, Saint Louis (MO), USA by Strangetastes, Saint Paul (MN), USA by Kate, Salem (OR), USA by jill, Salt Lake City (UT), USA by atc, San Antonio (TX), USA by Kramer, San Diego (CA), USA by Felicia, San Francisco (CA), USA by PFranson, Schenectady (NY), USA by Buck, Seattle (WA), USA by Kim, Seattle (WA), USA by Chuck, Seguin (TX), USA by Thien, Selma (AL), USA by RamblingRound, Sequim (WA), USA by Eponabri, Sesimbra, Portugal by Aldeia, Setúbal, Portugal by Maria Elisa, Sharon (CT), USA by Jenny, Singapore, Singapore by Zannnie, Singapore, Singapore by Keropok, Sofia, Bulgaria by Antonia, South Pasadena (CA), USA by Laurie, Springfield (IL), USA by Aubrey, Stanwood (WA), USA by MaryBeth, Stavanger, Norway by Tanty, Stayton (OR), USA by Celine, Stockholm, Sweden by Stromsjo, Stouffville, Canada by Ken, Subang Jaya, Malaysia by JC, Suffolk (VA), USA by ptowngirl, Sunshine Coast, Australia by bitingmidge, Sydney, Australia by Ann, Sydney, Australia by Sally, Sydney, Australia by Julie, Székesfehérvár, Hungary by Teomo, Tamarindo, Costa Rica by David, Tempe (AZ), USA by angie, Terrell (TX), USA by Jim K, Tokyo, Japan by Tadamine, Torun, Poland by Torun Observer, Torun, Poland by Glenn, Tuzla, Bosnia and Herzegovina by Jazzy, Twin Cities (MN), USA by Slinger, Victoria, Canada by Benjamin Madison, Vienna, Austria by G_mirage2, Villigen, Switzerland by z, Virginia Beach (VA), USA by ptowngirl, Wailea (HI), USA by Kuanyin, Washington (DC), USA by D.C. Confidential, Wellington, New Zealand by Jeremyb, West Paris (ME), USA by crittoria, West Sacramento (CA), USA by Barbara, Weston (FL), USA by WestonDailyPhoto, Williamsburg (VA), USA by ptowngirl, Willits (CA), USA by Elaine, Yardley (PA), USA by Mrlynn,