July 2008 Theme Day: "No . . ." signs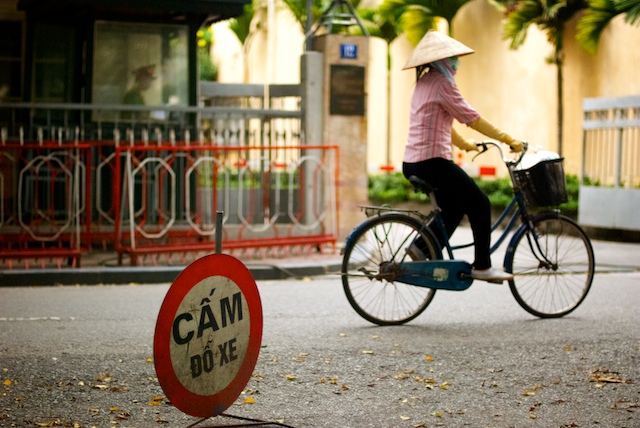 cấm đỗ xe: no parking.
No additional caption on this photo, because I really like it the way it speaks for itself and I hope you like it, too. Go check out what the other members from the City Daily Photo Community have got for y'all; they have pretty great stuff!
---
Click here to view thumbnails for all participants

American Fork (UT), USA by Annie, Anderson (SC), USA by Lessie, Ararat, Australia by freefalling, Arradon, France by Alice, Ashton under Lyne, UK by Pennine, Aspen (CO), USA by IamMBB, Athens, Greece by Debbie, Auckland, New Zealand by Lachezar, Austin (TX), USA by LB, Avignon, France by Nathalie, Bandung, Indonesia by Harry Makertia, Barrow-in-Furness, UK by Enitharmon, Barton (VT), USA by Andree, Belgrade, Serbia by Bibi, Bellefonte (PA), USA by Barb-n-PA, Bicheno, Australia by Greg, Birmingham (AL), USA by VJ, Bogor, Indonesia by Gagah, Boston (MA), USA by Cluelessinboston, Brantford (ON), Canada by Nancy, Brighton, UK by Harvey, Brookville (OH), USA by Abraham, Bucaramanga, Colombia by Fernando, Bucharest, Romania by Malpraxis, Budapest, Hungary by Zannnie and Zsolt, Budapest, Hungary by agrajag, Canterbury, UK by Rose, Cavite, Philippines by Steven Que, Chandler (AZ), USA by Melindaduff, Château-Gontier, France by Laurent, Cheltenham, UK by Marley, Chennai, India by Ram N, Chennai, India by Shantaram, Chesapeake (VA), USA by ptowngirl, Christchurch, New Zealand by Michelle, Cincinnati, USA by Erik Laursen, Cleveland (OH), USA by iBlowfish, Coral Gables (FL), USA by Jnstropic, Corsicana (TX), USA by Lake Lady, Delta (CO), USA by Bill, Duluth (MN), USA by Sun Dog Press, Durban, South Africa by CrazyCow, East Gwillimbury, Canada by Your EG Tour Guide, Edinburgh, UK by Dido, Folkestone, UK by Piskie, Forks (WA), USA by Corinne, Fort Lauderdale (FL), USA by Gigi, Gaia, Portugal by m+p, Geneva (IL), USA by Kelly, Grenoble, France by Bleeding Orange, Gun Barrel City (TX), USA by Lake Lady, Hampton (VA), USA by ptowngirl, Haninge, Sweden by Steffe, Hanoi, Vietnam by Jérôme, Helsinki, Finland by Kaa, Hobart, Australia by Greg, Hyde, UK by Gerald, Jackson (MS), USA by Halcyon, Jefferson City (MO), USA by Chinamom2005, Jerusalem, Israel by Esther, Katonah (NY), USA by Inkster1, Knoxville (TN), USA by Knoxville Girl, Kuala Lumpur, Malaysia by Edwin, Kyoto, Japan by Tadamine, Lakewood (OH), USA by mouse, Larchmont (NY), USA by Marie-Noyale, Las Vegas (NV), USA by Mo, Lisbon, Portugal by Maria João, London, UK by Ham, London, UK by Mo, Lynchburg (VA), USA by Timothy, Mainz, Germany by JB, Melbourne, Australia by John, Menton, France by Jilly, Mexico City, Mexico by Carraol, Mexico City, Mexico by Poly, Minneapolis (MN), USA by Mitch, Minneapolis (MN), USA by Greg, Misawa, Japan by misawa mama, Monroe (GA), USA by Tanya, Monrovia (CA), USA by Keith, Monte Carlo, Monaco by Jilly, Monterrey, Mexico by rafa, Mumbai, India by MumbaiiteAnu, Munich, Germany by Troy, Nashville (TN), USA by Chris, Nelson, New Zealand by Meg and Ben, New Delhi, India by Delhi Photo Diary, New Orleans (LA), USA by steve buser, New York City (NY), USA by • Eliane •, Newcastle, Australia by Julia, Newport News (VA), USA by ptowngirl, Norfolk (VA), USA by ptowngirl, Norwich, UK by Goddess888, Ocean Township (NJ), USA by Josy, Oklahoma City (OK), USA by ananda.tashie, Orlando (FL), USA by OrlFla, Palos Verdes (CA), USA by tash, Paris, France by Eric, Pasadena (CA), USA by Can8ianben, Pasadena (CA), USA by Petrea, Petaling Jaya, Malaysia by Murphy_jay, Petoskey (MI), USA by Christie, Phoenix (AZ), USA by Cheryl, Poplar Bluff (MO), USA by Tricia, Port Angeles (WA), USA by Jelvistar, Portland (ME), USA by Corey, Portsmouth (VA), USA by ptowngirl, Posadas, Argentina by Lega, Pretoria, South Africa by Sam Ruth, Quincy (MA), USA by Cluelessinboston, Reykjavik, Iceland by Vírgíll, Riga, Latvia by , Rotterdam, Netherlands by Ineke, Rouen, France by Bbsato, Saarbrücken, Germany by LadyDemeter, Saigon, Vietnam by Simon, Saint Louis (MO), USA by Strangetastes, Salem (OR), USA by jill, Salt Lake City (UT), USA by Eric, Salt Lake City (UT), USA by atc, San Antonio (TX), USA by Kramer, San Diego (CA), USA by Felicia, San Francisco (CA), USA by PFranson, Santa Fe (NM), USA by Randem, Seattle (WA), USA by Kim, Seattle (WA), USA by Chuck, Selma (AL), USA by RamblingRound, Sequim (WA), USA by Norma, Sesimbra, Portugal by Aldeia, Setúbal, Portugal by Maria Elisa, Sharon (CT), USA by Jenny, Silver Spring (MD), USA by John, Singapore, Singapore by Keropok, Sofia, Bulgaria by Antonia, Springfield (IL), USA by Aubrey, Stanwood (WA), USA by MaryBeth, Stavanger, Norway by Tanty, Stayton (OR), USA by Celine, Stockholm, Sweden by Stromsjo, Stouffville, Canada by Ken, Stratford, Canada by Barb, Subang Jaya, Malaysia by JC, Suffolk (VA), USA by ptowngirl, Sunshine Coast, Australia by bitingmidge, Sydney, Australia by Ann, Sydney, Australia by Julie, Székesfehérvár, Hungary by Teomo, Tamarindo, Costa Rica by David, Tel-Aviv, Israel by Olga, Tempe (AZ), USA by angie, Terrell (TX), USA by Bstexas, Terrell (TX), USA by Jim K, The Hague, Netherlands by Lezard, Tokyo, Japan by Tadamine, Torun, Poland by Glenn, Toulouse, France by Julia, Trujillo, Peru by Giulianna, Turin, Italy by Livio, Twin Cities (MN), USA by Slinger, Victoria, Canada by Benjamin Madison, Vienna, Austria by G_mirage2, Virginia Beach (VA), USA by ptowngirl, Wailea (HI), USA by Kuanyin, Washington (DC), USA by D.C. Confidential, Wellington, New Zealand by Jeremyb, West Paris (ME), USA by crittoria, West Sacramento (CA), USA by Barbara, Weston (FL), USA by WestonDailyPhoto, Williamsburg (VA), USA by ptowngirl, Willits (CA), USA by Elaine,